What's On

The restorations are complete!
October 8, 2016 @ 9:00 am – 11:55 pm
Free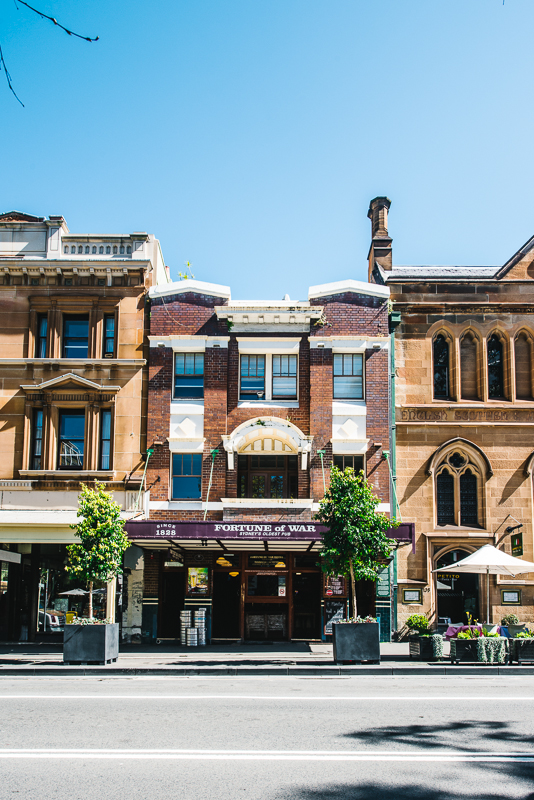 After 14 weeks of careful restoration work, the Fortune of War in Sydney's The Rocks reopens to the public on Saturday 8th October 2016.
With the last major works conducted in the 1920's, and after more than 188 years of serving frosty schooners to tens of thousands of colourful faces from all over the world, business owners WDS Hotels decided it was time for much needed restorations and structural repairs.
Treading the line between modern comforts and maintaining historical integrity was no easy feat. The charm of the pub has been maintained – when many old fashioned pubs are making way for more modern designs, the Fortune of War has stayed true to its roots with warm timbers, a traditional colour palette, and original tiles kept around the bar and walls.
The intention was to retain the historic character that made Fortune of War special, whilst fixing areas that were in desperate need of repair. To create a space where everyone feels comfortable and welcome, where you can drink with your friends, quell hunger pangs, rest after a busy day sightseeing, and be entertained.
"As business owners we live, love and enjoy this place as much as the customers do so we wouldn't dare change its appeal. Our special little gem has traded non-stop since the early 1920's and the equipment behind the scenes was pretty much buggered! Much of the work completed won't be seen from the surface as it is largely in the basement and behind the bar. But it will be felt – the changes are all designed to make the experience better for our customers." – Steven Speed, Director WDS Hotel Group
In order to retain its historic character, the timber surfaces have been restored, the walls painted, the carpet replaced, and each of the historic prints of the walls have been reframed to match.
Under the surface, some floorboards have been replaced with heritage hardwood boards; a completely new cool room has been installed; electricals, lighting and sound upgraded; and new air conditioning system to ensure maximum comfort all year around.
The classic pub-style menu has been refreshed to feature all of your favourites, including burgers, steak, and schnitzel, as well as some new additions. The famous Fortune of War Shepherd's Pie is a standout (braised lamb shoulder, topped with creamy mash and a side of minted mushy peas, $22), with delicious additions such as Chorizo & Prawn Spaghetti (chorizo, prawn, capsicum, napolitana, $26.50), Grilled Chicken Summer Salad (mesclun, grilled chicken, orange, pear, rockmelon, $18), and Mushroom Burger (flat mushroom, lettuce, tomato, beetroot, blue cheese mayo, chips, $18.50)  sure to please the palate. The kids have not been forgotten either, with a range of kids meals that include a meal, dessert, drink and activity pack for just $15.
With sixteen taps for beer and cider there is something for everyone – as well as an overhauled wine list offering customers a range of drops from both renowned and boutique Australian and International wineries.
The Fortune's renowned live music line up is back – with favourites such as Dan Sharkey, Glenn Esmond, Ted Nash and Whelan & Gover returning each week (Thurs 7pm, Fri 8pm, Sat 3pm & 8pm, Sun 1pm & 6pm).